We are proud of our Academy and expect all students to wear our simple uniform with pride. This includes the PE kit and specialist equipment for technology. Please leave jewellery at home. If jewellery is worn, this must be in accordance with the Academy dress code.
Jewellery
Students are not allowed to wear excessive or expensive jewellery at Ormiston Forge Academy. This is not only to prevent the loss of valuable items but also to encourage neatness in dress and appearance. If studs are worn, only one pair can be worn in earlobes. All jewellery must be removed for PE due to health and safety regulations.
Makeup
Makeup and nail varnish is not permitted in years 7, 8 and 9. Discrete make-up and nail varnish only, for years 10 and 11.
Uniform
The majority of our plain uniform can be purchased at supermarkets and department stores. We have kept the amount of branded items to a minimum and branded uniform is available from:
Crested Schoolwear, Unit 14, Churchill Shopping Centre, Dudley, DY2 7BJ
Phone: 01384 918330 WEBSITE
Black blazer with Academy logo
Plain black trousers (no jeans, cords or leggings)
Skirt – black, plain, must be knee-length (no short, tight tube skirts allowed)
Plain black jumper (optional), V-necked plain black (no sweatshirts)
Shirt/Blouse – white (no casual shirts or t-shirts)
Tie – Academy tie
Head scarf – (optional) plain black
Outdoor coat (not leather/denim)
Polishable black shoes in a sensible style (no trainers)
The Academy also has a pre-loved uniform shop that can be visited by calling the Academy main office and making an appointment.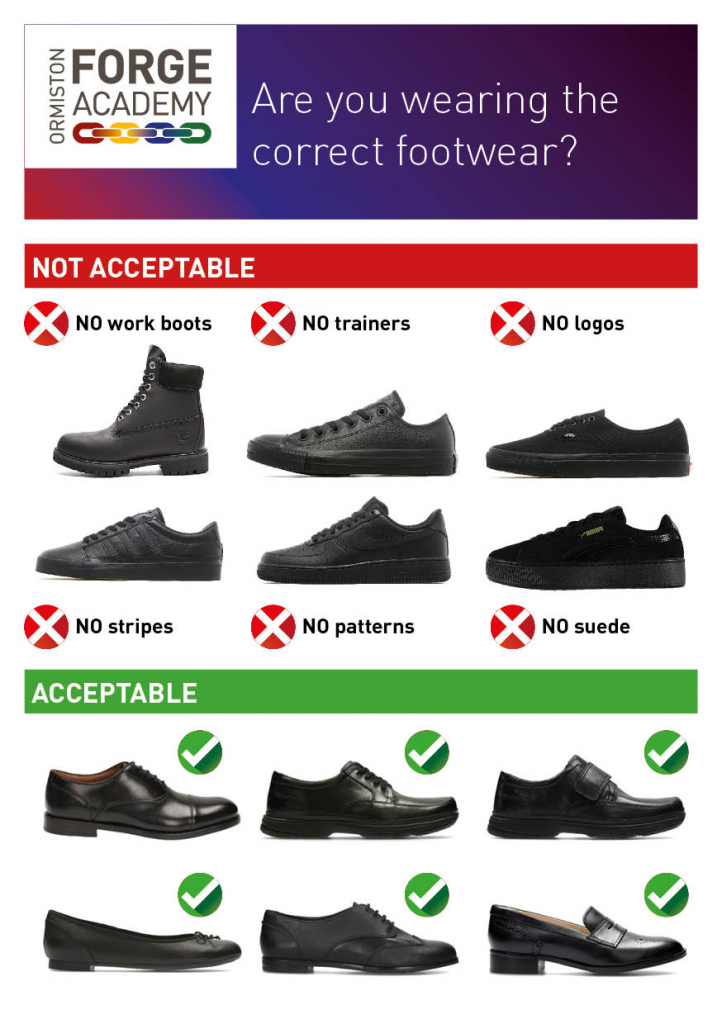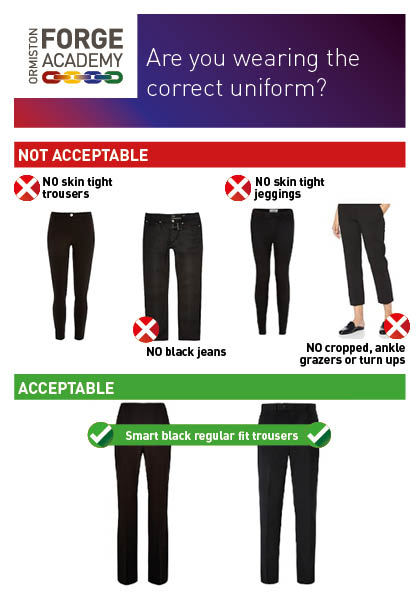 PE kit compulsory clothing
Black/burgundy polo shirt with Academy logo
Plain black football style shorts (cycling style shorts are only to be worn underneath football shorts)
Plain black tracksuit bottoms (no stripes down the sides – a small logo on the front is acceptable. Leggings are allowed to be worn underneath football shorts)
Plain black football socks (outdoor)
Plain white sport socks (indoor)
Appropriate footwear for the activity; suitable trainers for indoors and sturdy trainers or moulded stud boots for the astro turf Often students need to go outside in all weather conditions. They're required to be fully prepared for these conditions with clothing that ensures they are as comfortable as possible whilst still upholding our PE kit standards.
Equipment for study
We expect all students to carry a school bag and pencil case to hold at least one pen, pencil, ruler and rubber as basic equipment. It is essential that students come organised and ready to study.
For maths, students can bring a Casio FX-83GTX calculator and a 180 degree protractor. If students do not have a calculator or a protractor, the maths department can supply.
Please ensure students have their name on all equipment.
Optional clothing for winter
Black long-sleeved sports top with Academy logo
An alternative to the 'Forge branded' top is that students may wear a plain black sweat top/thermal or skin-top underneath the Forge polo shirt. No hooded tops should be worn for PE lessons. In cases of extreme cold, hats and gloves may be allowed at the discretion of the class teacher.
The majority of our plain uniform can be purchased at supermarkets and department stores. We have kept the amount of branded items to a minimum and branded uniform is available from:
Crested Schoolwear, Unit 14, Churchill Shopping Centre, Dudley, DY2 7BJ
Phone: 01384 918330 WEBSITE