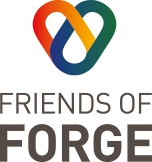 Friends of Forge (FoF) is a group of parents, teachers and associates of the Academy, who meet regularly throughout the academic year to support us and our students.
FoF works with the community to organise events and raise funds throughout the year. We create opportunities for our Academy to develop relations within the local community and empower parents in helping enrich the lives of the students.
We meet at Forge roughly once every half term (alongside correspondence via e-mail and a WhatsApp group) to discuss, plan and reflect on a busy calendar of fun social events throughout the year.
Our primary focus is to bring the Academy and parent communities closer together and in doing so raise funds which we gift to the school to put towards 'added value' facilities that the students might not otherwise benefit from. We are always keen to have new people on board and there are lots of fun ways to get involved. If you have time to spare and would like to lend a hand at any point in the year, we would love to hear from you. Friends of Forge is an important part of what makes Ormiston Forge Academy such a special school. Use the contact form below to express an interest in joining us.
Fundraising
50/50 Club
Friends of Forge run a school lottery, a 50/50 Club which provides regular income to Ormiston Forge Academy. This is a monthly draw with a chance to win a cash prize each month. The prize pot is dependent on the monthly monetary contributions, so the more money we have coming in the bigger the prize pot. A regular donation of just £1.00 per month makes a difference to our fundraising.

This is a major fundraising activity, with 50% of the proceeds going towards projects at the school, and the remaining 50% returned in prize money to winning participants. This is open to parents, staff, family members and friends. Your support for the lottery would be much appreciated, please message us if you are interested in joining.
easyfundraising
If you would like to help but are short of time, you can earn money for the FoF fund when you shop online with John Lewis, Next and M&S amongst others. Simply register with www.easyfundraising.org.uk add us as your cause and every time you shop, you will earn money for FoF, it won't cost you a penny! You can download the app to your smartphone or tablet to remind you when you are shopping, or click the link: https://www.easyfundraising.org.uk/causes/foforge/
Click here to contact Friends of Forge.