The information on this page is reviewed annually. The next scheduled review is 1st February 2022. If you have any feedback, please get in touch via the contact page on this website or call the main school number and ask to speak to our careers department.
Ormiston Forge Academy employs a 'Director of Work Related Learning', Rachel McCarthy, who is also the Careers Leader for the Academy. She is supported by a fully qualified Careers Advisor, Beverley Evans.
Pupils entitlement to careers education are set out in the Ormiston Academies Trust Careers Education Information, Advice and Guidance Policy. The Academy has a planned programme of Careers Education, providing pupils with the knowledge, understanding and skills in order to make realistic careers decisions.
For any further information about the careers programme, please contact [email protected] or [email protected].
For news of careers events and talks, please check our social media feeds. We will also inbox students with any relevant updates and inform parents. We will also post to Satchel One.
Click here for the DfE Guidance for careers guidance and access for education and training providers.
Forge policies regarding careers can be found in our policies section of the website.
In November 2021, we ran an event where guests came in to talk to our year 13 students about pathway beyond Forge. Click here for more details. Some of the feedback from guest attendees to this event:
The students were very engaged and showed great interest in both my experience and their own chosen career paths. Behaviour and conduct of students was a credit to the school.
Phil Coldicott
IT Manager (Retired)
The small group approach - students seemed more comfortable and willing to engage.
Reanne Upton
Associate | Dispute Resolution
Higgs LLP
The students were really enthusiastic and positive and the format worked really well.
Scott Thompson
Managing Director
Thompson Group

Pupil entitlement at Ormiston Forge Academy
Individual guidance from Beverley Evans (Careers Advisor), Pam Brown (Connexions Sandwell) and support from Tracey Beech (The Access Project).
Access to computer programmes.
Access to UCAS, via dedicated staff, Tracey Beech and The Access Project.
Careers Education that links to the PSHE curriculum and via subject curriculum in the 'World of Work' focus.
A work experience placement in year 10 and in Sixth Form.
.
Our destination data for year 11 (2020):
Continued into our sixth form: 115
Other sixth form/FE colleges: 140
Training/Apprenticeship: 6
Left country: 1
.
CDI Careers Development Framework
.
Audit of the Gatsby Benchmarks (November 2020):
Details of the Connexions Sandwell Working Arrangement:
Current annual plan, set against benchmarks: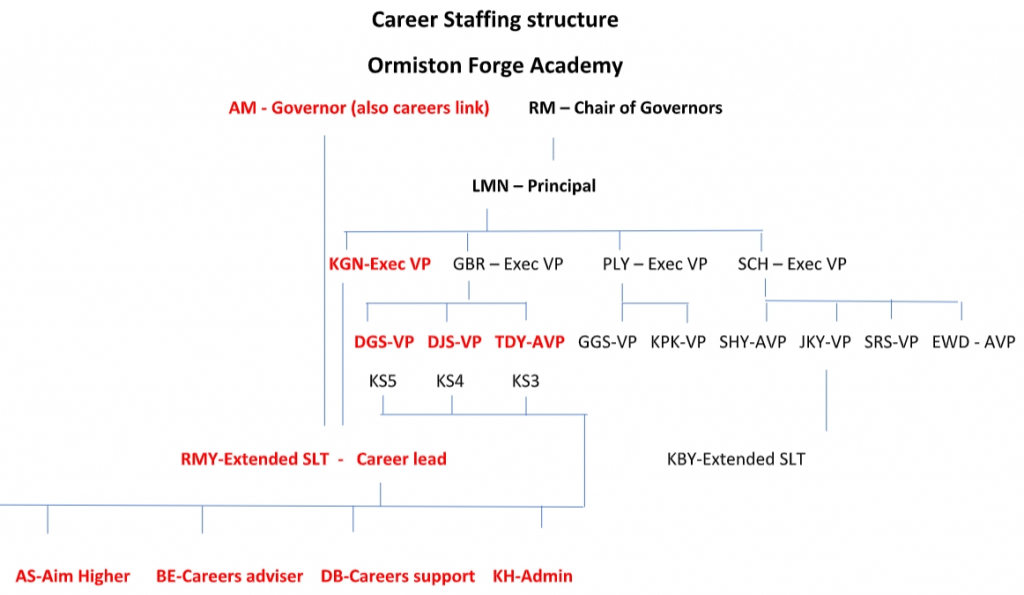 Careers Resources
Ormiston Forge Academy comes under the Rowley Regis district but if you live in other areas you can find out about labour market information using the dashboard in this link. Page 2 on the dashboard - you can read through some of the subjects required at school for different jobs in the area - see the bottom table and the final column. Page 3 - select Sandwell in the top left menu and click on Rowley Regis and this will show a list of the strategic businesses in the area. There are around 80 strategic businesses, with an annual turnover of more than 1 million, all close to Ormiston Forge Academy. Pupils should be encouraged to look through the dashboard if they live in another locality. Pupils can select a different locality from the menu.
The Annual Economic Review (formerly called State of the Sub Region) is an annual report which focuses on the 'indicators' in the Black Country Performance Management Framework, which enable us to understand if the Black Country is making real progress towards achievement of the aspirations set within the Black Country Vision and the Black Country Strategy for Growth and Competitiveness. It also includes a range of information from over the last 12 months, providing a Black Country picture of the impact and direction of travel.
You can download the 2019 Black Country Annual Economic Review here:
Sandra Fritz is our School Business Advisor, she has volunteered her time to support students in the school with work-related learning and will be providing sessions, mentoring and support with workplace visits.
"I am 51 and live in an old Victorian house with my three cats. I have two master's degrees one in HR and the other in Law. In my spare time, I enjoy going to the gym, the cinema, theatre, live music and comedy. The best gig I have been to see this year was the Prodigy.
"At school, I was an average student and was never quite sure what I wanted to do. I liked art, reading and sport.
"My first job was an apprentice. I remember my first ever manager said, 'A job is what you make it'. I've never forgotten that advice.
"I fell into HR, but I like the work. Mainly my job involves making sure people are supported at work, for example, if they are being bullied, or off sick and need support back to work. My work also involves fun stuff like working with schools and giving young people the opportunity to gain some work and looking after apprentices who come to work in our offices. I also get involved with community activities such as helping to deliver food parcels at Christmas for people who are living in poverty. I also have two other jobs. I teach adults at college one evening each week and I also work alongside judges in Tribunal where we make decisions on important cases that affect people's lives.
"In giving a key message to students... work hard, follow your dreams and never give up. Remember all the people who help you to achieve your dreams and aspirations and help others in the same way."
Here are useful video links on understand apprenticeships.