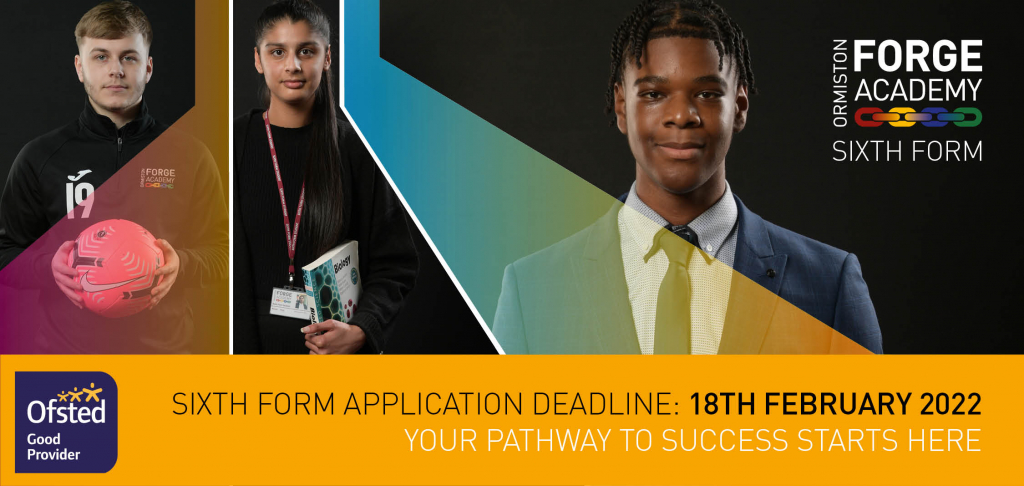 CLICK HERE to find out about our sixth form admissions for 2022. It's not too late to come and have a look around.
We believe Ormiston Forge Academy is the best place for post 16 study in Sandwell. This is the final step before higher education or the world of work. You need to get this decision right and we believe that we can match your ambition, provide the right support and deliver an environment that suits both academic and vocational excellence.
We have a wide range of options and are always on hand to provide advice and guidance on what can be a difficult decision. We want your sixth form experience to be busy and exciting. So, we provide a mix of enrichment activities. This year, activities have included, amongst other things: debating society, reading programme with primary students, extended project, canoeing, mountain biking and financial management.
University courses and job opportunities are often oversubscribed so it's really important that you leave us with the strongest possible profile and develop a wide range of skills that will ultimately strengthen your university, or future job, applications.
Our results speak for themselves, we've just had a record-breaking summer for A levels but if bits of paper, facts and figures don't interest you, speak to our students. Speak to former students. They're our best testimony. We are Forge. Come and join us.
To arrange a tour or for any enquiries, please contact Mr Darren Grimes (Assistant Principal KS5):
[email protected]