A message from the Principal
Welcome year 6 students. We are really looking forward to you starting in September and I hope that the information you find here is useful. Everyone at Ormiston Forge Academy understands that this must be a very strange time for you, even I remember moving to big school when I was your age. I want you to know what a fantastic place you are coming to, that we will look after you and if you promise to do your very best every day we will provide you with fantastic opportunities. Our students travel the world, play instruments, go to university, score goals, get good qualifications and smile; they smile a lot. I hope to see your smile in September.
Thank you.
Dr Lisa Mason
Principal
---
Progress Tutor Letters (20th June 2022)
You can download the full set of progress tutor letters here:
---
For the attention of year 6 parents joining Forge in September 2022 (17th June 2022)
Your children have now been allocated to a progress tutor group and a letter will be in the post on Monday from your tutor as well as full details about the transition days and summer school.
For information, our four transition days here at Ormiston Forge Academy are on the following dates:
Wednesday 29th June and Thursday 30th June
Wednesday 6th July and Thursday 7th July
Students will be expected to attend all four of these days, between 8:40 and 15:00, wearing their primary school uniform. There will also be a transition evening on Wednesday 6th July and Thursday 7th July at 5:30, where parents will have the opportunity to meet with progress tutors and hear some important information from some key members of the Forge Family. This will also give you the opportunity to return the completed student information pack we sent to you in March.
On the transition days themselves, lunch will be provided, but we recommend that children are sent in with a snack for break time and a refillable water bottle. It would also be a good idea, weather dependent, to apply some sun cream and consider sending them in with a hat.
In the meantime, if you have any questions or concerns please don't hesitate to get in contact here . We look forward to meeting you all soon.
---
Content from 2021 Transition
We've decided to leave the content up from the 2021 transition programme. If there is something else that you would like to see or feel that we've missed anything, please get in touch. Thank you.
---
21st July 2021 – Arrangements for September
Dear year six parents,
Our update this week is a little different. We've announced all of our plans for our return in September and we wanted to share them with you too. We're mindful that there is lots of information in this document and it could be a little overwhelming. There is so much to communicate, we felt it was important to write directly to you and highlight some of the specific areas that are relevant to our new year 7.
We've already created lots of transition information which you can find here on the website including the student handbook. At the start of term, the aim is for us to have a mini-transition to replace those we have lost. We want year 7 to have the first two days without the rest of the main school (year 12 will be in) so that they can feel comfortable. We wanted to give you some details on how those first two days will look for the students. Many of these are standard expectations but there are a few that are specific to the first few days:
We would like all students to be in school each day, wearing full school uniform.
We would also like students to be fully equipped for school (a pencil case containing: pens, pencils, a ruler and rubber).
Year 7 students will use the main school entrance to come into school, this will continue for the first half term.
We would like students to be on site by 08:30 each day.
For the first three days, we will be accepting cash in the canteen. If your child needs to buy food, please send them in with £3 in cash.
There will be lots of different things going on in the first few days. Students will be getting to know their progress tutor, experiencing some lessons and logging on to the Academy computers and homework app for the first time.
Students will also use the canteen system for the first time. To do this we need families to have returned the induction pack which contains permission slip for biometrics. If you have not returned that as yet, please do so.
Students will also finish each day ten minutes before our normal finishing times. This is to aid the transition period whilst they settle into life at Forge. Again, they will be dismissed via the main gate, this will also continue for the first half term. Here are the start and finish times for year 7:
Monday: 0830 – 1600
Tuesday: 0830 – 1500
Wednesday: 0830 – 1500
Thursday: 0830 – 1500
Friday: 0830 – 1305
We are absolutely delighted to be welcoming year 7 into school in September and want to ensure that they get the most from these updates and their transition into the Forge family. If you have signed your child up for summer school, they are in for a brilliant time. If you have any questions, please get in touch via the dedicated transition email address: [email protected]
Thank you for your continued support.
Yours faithfully,
Mr Michael Gill – Head of Year (year 7)
Miss Hannah Smith – Pastoral Leader (year 7)
19th July 2021 – First Day Tour
Our head of year 7, Mr Gill, shows our new year 7 students who are starting in September, the route they take on their first morning.
14th July 2021 – Transition from a student perspective
We asked some of our year 7 students what they thought about their transition from year 6 into Forge last year.
8th July 2021 – Greetings From Mr Gill and Miss Smith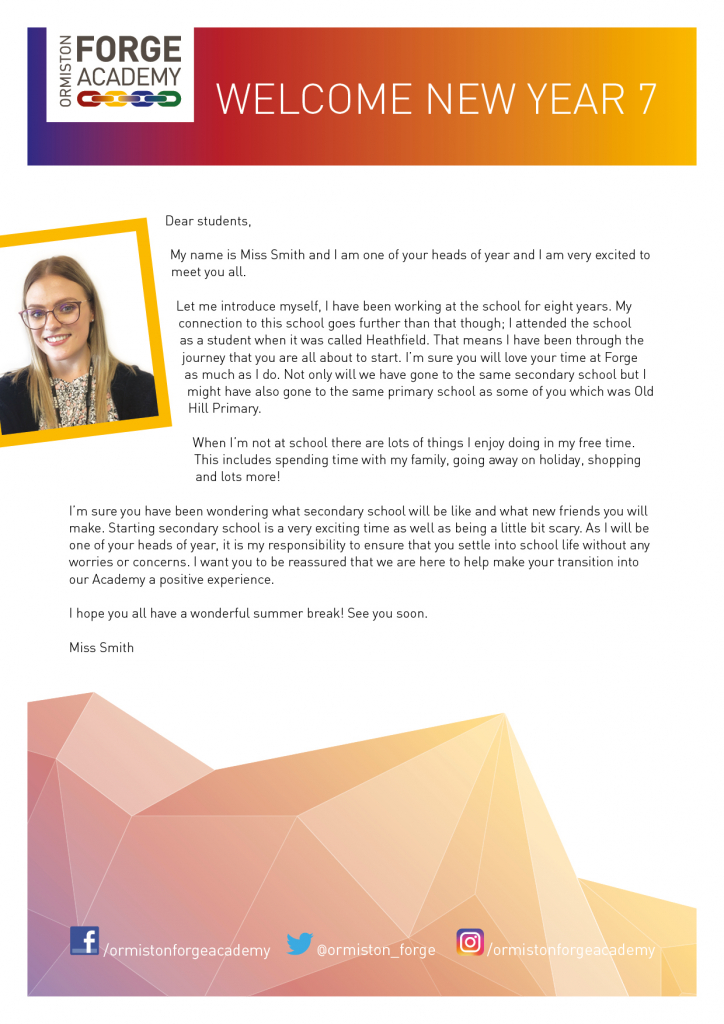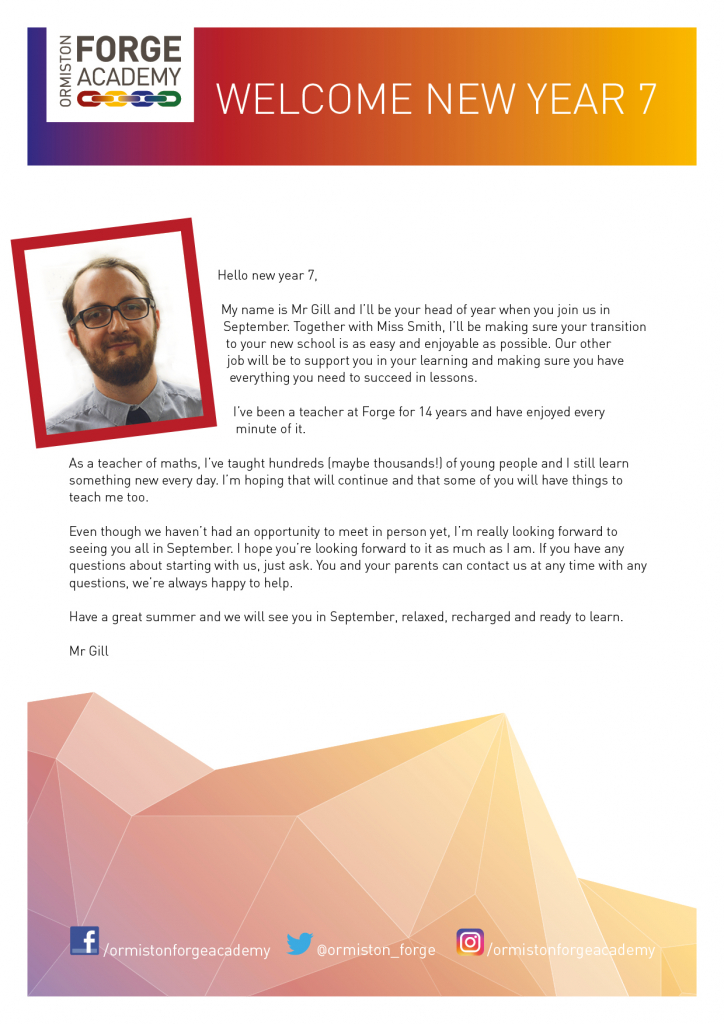 1st July 2021 – Uniform Update and Summer School Reminder
We'll start the transition update today with a reminder about summer school. We have written to everyone who applied to confirm places – if you applied and haven't heard from us, please email [email protected]. We have some places left, the number of children in a group is still below ten and we have lots of outdoor activities. Please visit THIS LINK to learn more about summer school and register.
Our new uniform supplier is Crested Schoolwear and we are very grateful they sent us this video. Details about Crested Schoolwear can be found HERE and information about our uniform at Forge can be found HERE. Don't forget that all new year 7 students can claim a free blazer, the information about this is in your induction pack.
Finally, did you know that Sandwell council have a scheme that helps families on benefits to buy uniform You can find all of the details about the scheme here: www.sandwell.gov.uk/schoolclothing
Thank you.
29th June 2021 – Mr Daly Welcome
Our senior leader for key stage 3, Mr Daly, welcomes the cohort of year 6 students who will be starting at Forge in September 2021.
23rd June 2021 – Summer School
We are delighted to announce that we are going to run a summer school in the first week of the summer holidays for students joining us in year 7 in September.
The week will run from Monday 26th July to Friday 30th July from 9.30am until 1.30pm each day with breaktime and a lunch break. Activities over the week will include literacy, numeracy, art, STEM (science technology, engineering and maths), music and even a circus workshop. There will be sports activities on offer each day and orientation activities to help students get to know their way around Forge in preparation for September. Best of all, the entire week is free of charge!
Due to transition days being cancelled and our move to a virtual transition programme this is the ideal opportunity for new students to visit Forge and meet many of our staff who will be teaching them in September. We've been able to plan this because the pupils will not be going back into the primary settings after summer school.
Places are limited so book now by following this link: https://tinyurl.com/y9skzrew – it's a first-come, first-served process and we'll be writing shortly to all of the successful applicants with full details of the week including details of catering.
If you have any questions, please email [email protected].
Thank you.
18th June 2021
17th June 2021
You should have received the letter and the FAQ through the post this week, the booklet is an excellent resource that will help guide you and your child through transition.
---