A message from the Principal
Welcome year 6 students. We are really looking forward to you starting in September and I hope that the information you find here is useful. Everyone at Ormiston Forge Academy understands that this must be a very scary time for you, even I remember moving to big school when I was your age. I want you to know what a fantastic place you are coming to, that we will look after you and if you promise to do your very best every day we will provide you with fantastic opportunities. Our students travel the world, play instruments, go to university, score goals, get good qualifications and smile; they smile a lot. I hope to see your smile in September.
Dr Lisa Mason
Principal
Transition to September 2020 will be a little different this year. We'll be updating this page with information that we send out to parents, the latest will be dated and at the top. If you have any questions or concerns, please email [email protected]. Thank you.
24th August 2020
We're delighted to share some letters from current year 7 students who will be year 8 in September with our new year 7 students who will be starting with us in September.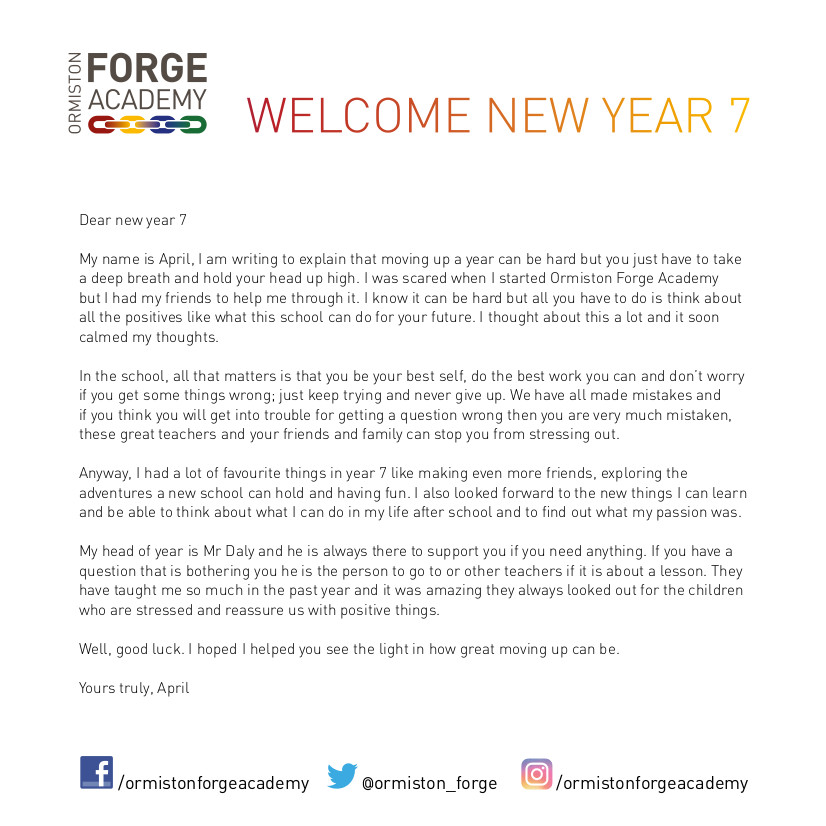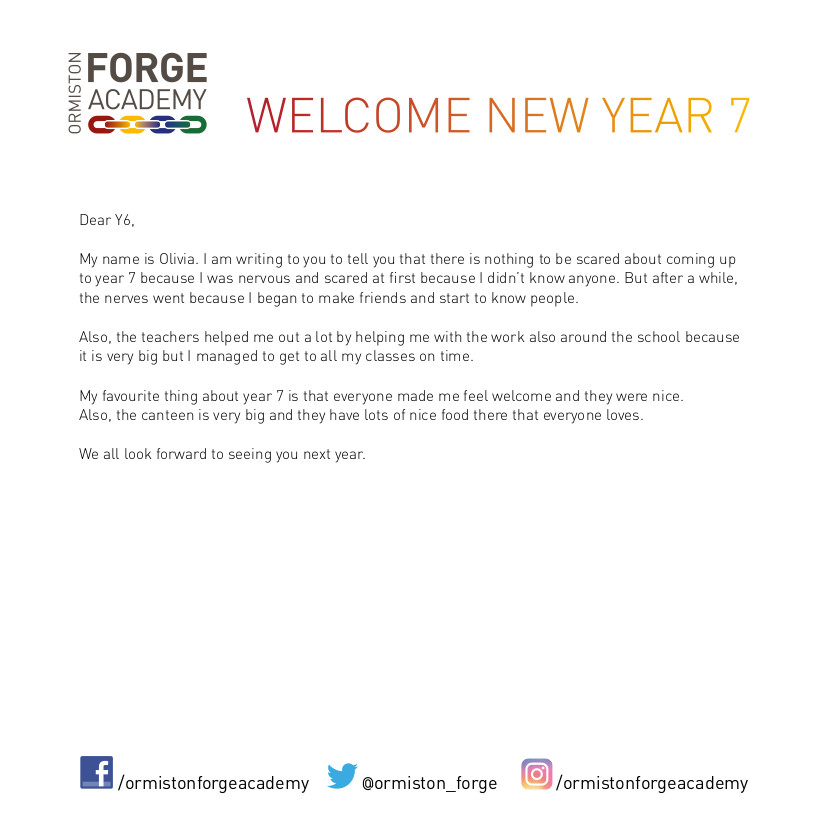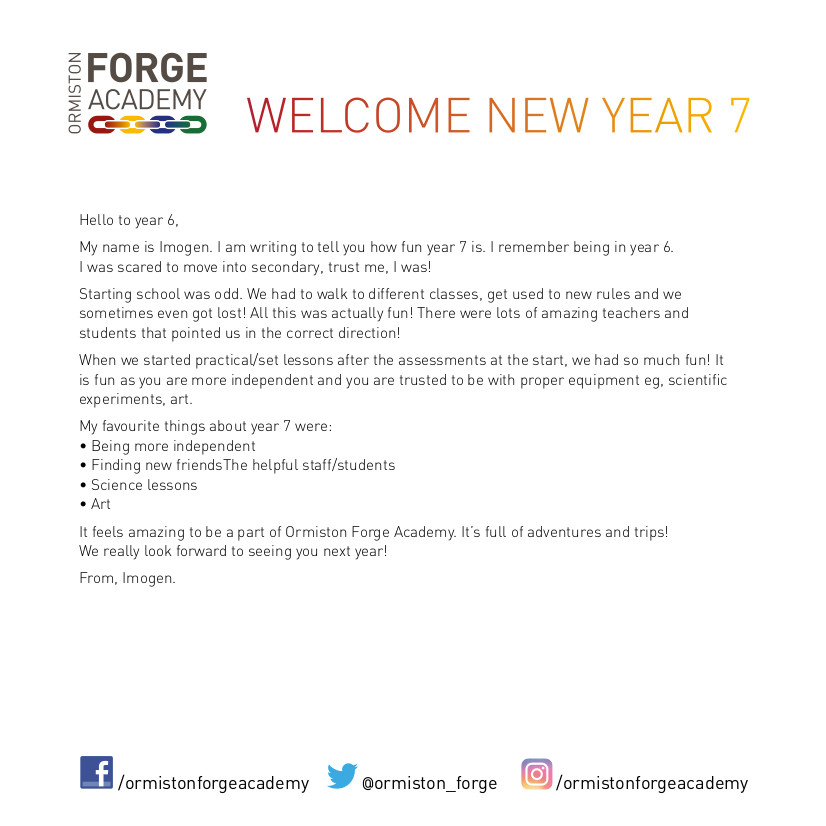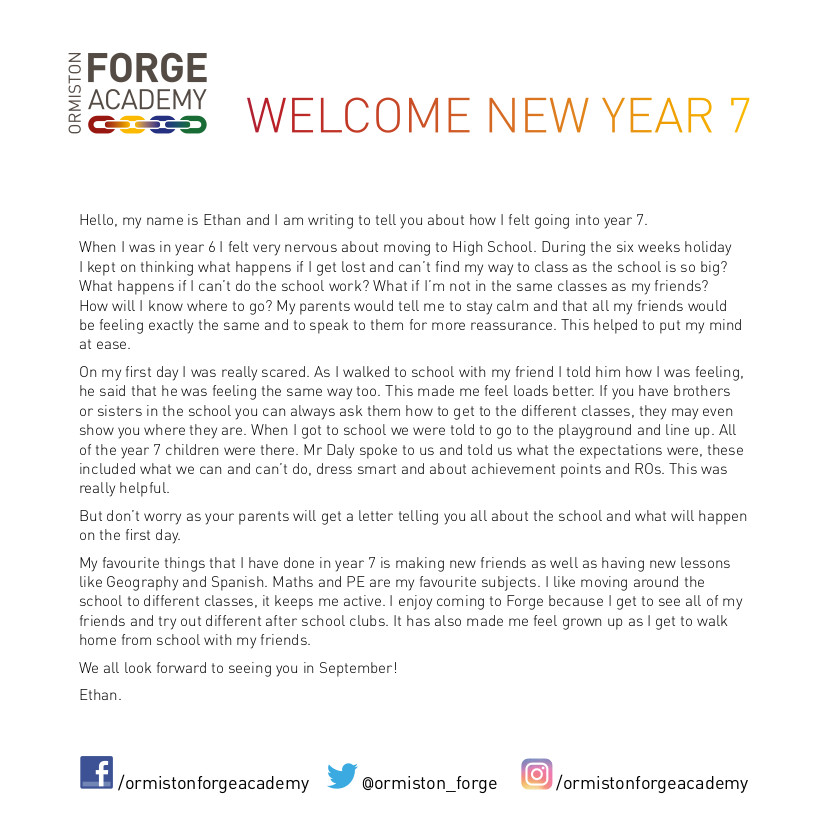 27th July 2020
All the maths teachers at Ormiston Forge Academy are very much looking forward to meeting you. Normally during the transition weeks before the summer holidays, you find out about us, we find out about you and together we do some maths. Unfortunately, due to the transition weeks being cancelled we didn't get to meet in person. However, hopefully completing this booklet you will be able to find out some facts about the maths teachers at Ormiston Forge Academy, do some research into some of our favourite mathematicians and do some maths either on your own or with your family/carers.
Additionally, www.numerise.com/secondary-ready/
is free to all learners until September 2020 and is designed to bring year 6 up to speed ready for maths in year 7.
16th July 2020
15th July 2020
Dear year six parents,
Our update this week is a little different. Today we've announced all of our plans for our return in September. I wanted to share them with you too. However, I'm mindful that there is lots of info in this document and it could be a little overwhelming. There is so much to communicate and we felt it was important to write directly to you and highlight some of the specific areas that are relevant to our new year 7.
The aim is for us to have a mini-transition to replace those we have lost. We want year 7 to have the first three days without the rest of the main school (year 12 will be in) so that they can feel comfortable. We wanted to give you some details on how those first three days will look for the students. Many of these are standard expectations but there are a few that are due to the circumstances we find ourselves in:
We would like all students to be in school each day, wearing full school uniform.
We would also like students to be fully equipped for school (a pencil case containing: pens, pencils, a ruler and rubber). We have a flyer being developed detailing exactly what you will need.
Year 7 students will use the main school entrance to come into school, this will continue for the first half term.
We would like students to be on site by 08:30 each day, this will continue for the first half term.
For the first three days, we will be accepting cash in the canteen. If your child needs to buy food, please send them in with £3 in cash.
There will be lots of different things going on in the first few days. Students will be getting to know their progress tutor, experiencing some lessons and logging on to the Academy computers and homework app for the first time.
Students will also use the canteen system for the first time. To do this we need families to have returned the induction pack which contains permission slip for biometrics. If you have not returned that as yet, please do so.
Students will also finish each day ten minutes before our normal finishing times. This is to aid a dismissal system inline with Covid-19 guidance. Again, they will be dismissed via the main gate, this will also continue for the first half term. Here are the start and finish times for year 7:
Monday: 0830 - 1600
Tuesday: 0830 - 1500
Wednesday: 0830 - 1500
Thursday: 0830 - 1500
Friday: 0830 - 1305
Click here to find the full plan.
We are absolutely delighted to be welcoming year 7 into school in September and want to ensure that they get the most from these updates and the transition days into the Forge family. We will continue to post our transition updates over the summer. If you have any questions before then, please get in touch via the dedicated transition email address: [email protected]
Thank you for your continued support.
Yours faithfully,
Mr Tom Daly
Senior Leader Key Stage 3
Ormiston Forge Academy
Please follow Government advice by washing your hands frequently and reduce your social interactions – here is some Government guidance on staying alert and safe: https://bit.ly/2T0FT7j
8th July 2020
1st July 2020
23rd June 2020
This week our transition update is about uniform. We've been talking to our uniform supplier - A Oakes - about their response to Covid-19 and we've produced a handy flyer with everything that you need on it. We know that you've already had this info in your welcome pack, including the £25 voucher, but we wanted to let you know that Mr Oakes is now open for business and has given us these assurances.
Until further notice, the opening time of the uniform shop will be: Monday to Saturday from 10am until 4 pm. The shop is closed all day on Wednesday and Sunday.
The shop can be found at:
A Oakes Limited
Oakend House
174-180 Vicarage Road
Oldbury
West Midlands
B68 8JB
The contact number for the shop is 0121 552 1684.
We'd also like to mention that the privacy policy for students that was included in your original welcome pack has been updated to include live learning. We have a legal requirement to inform you of this and you can find the updated policy by clicking here.
If you have any questions about the uniform or about the policy, email us at [email protected]
We appreciate that the update this week is geared more toward parents. Hope you don't mind. We have some great video content coming up over the next few weeks for students.
Thank you.
Click here to download the uniform flyer.
17th June 2020
11th June 2020
Meet our progress tutors. This week, students joining us in year 7 in September will receive a letter from their progress tutor. We've popped the letters here too so you can meet them all. Click the form link to open the PDF from the tutor in a new window.
7AHL – Miss Howell
7ASO – Ms Sicignano
7EBN – Miss Burton
7EPR – Mrs Porter and Mrs Broughton
7JLD – Mr Lloyd
7LCL – Mrs Colwell
7MCE – Mrs Clarke
7NHF – Mrs Hanif
7RDS – Miss Dass
7SCE – Mr Crocombe
7TLW – Mrs Law
2nd June 2020
20th May 2020
Download the PDF letter sent to parents with the new transition plan for September 2020. Personal details have been removed from this letter.