There was not an options process in 2022 due to the Academy moving to a three-year Key Stage 3.
What subjects are compulsory?
Combined science: 4/5 periods per week
English language and English literature: 4/5 periods per week
Mathematics: 4 periods per week
History or geography: 3 periods per week
Physical education: 1 period per week
Philosophy, religion and ethics (PRE): 2 periods per week
What are the option choices?
The remainder of the subjects on the timetable are then blocked in two groups. Each block contains a wide range of subjects, students choose one subject from each block. Students can find out about each of the subjects offered by reading the options booklet, attending the live taster lessons in the week beginning Monday 1st March and communicating with staff who teach the subjects. Parents can stay informed of the subjects that students are thinking of taking; discuss and help in their choices.
When will the final choices have to be made?
Students will receive a Google Form to complete their option choices online. The final date for submission is Friday 26th March 2021. If families need further guidance and would like to discuss option choices with a senior member of staff they are invited to book an appointment for the options consultation afternoon (on Monday 22nd March) via Edulink.
You can find the options booklet here to download as a PDF: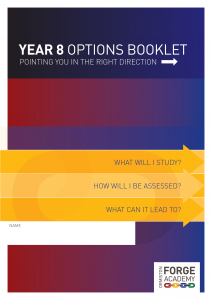 Options 2021 Video
An introduction to year 8 students and their families to our Options process.
UPDATE: Year 8 Parents' Evening – Parents and students have an opportunity to discuss option choices with teaching staff on two date now - Wednesday 3rd/10th March – this supersedes the information given in the video.
Options Form 2021
You can download the options form for 2021 here: